Industrial Floor Coating Contractors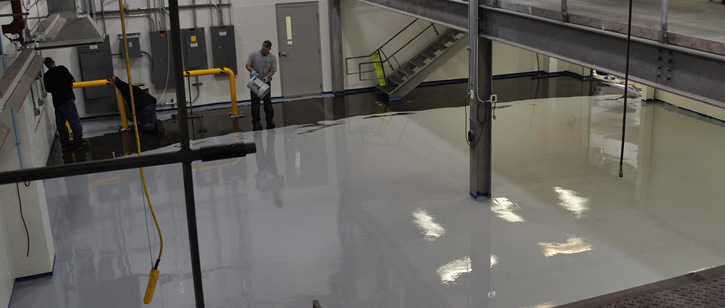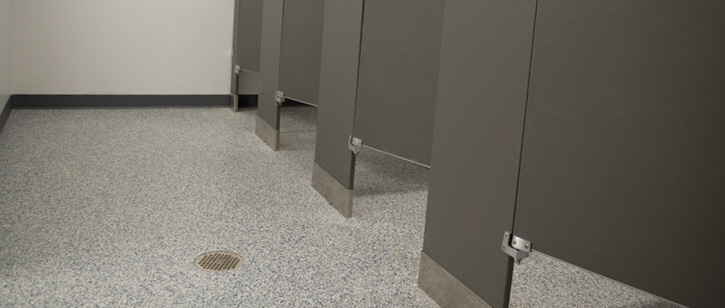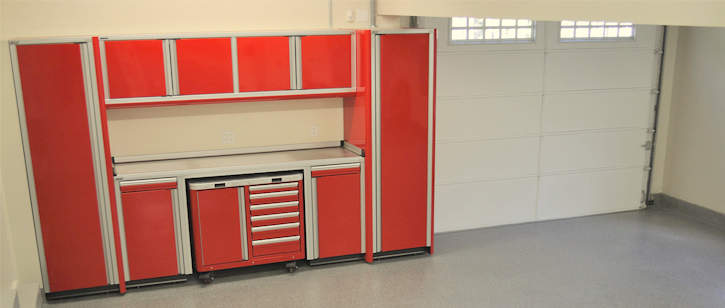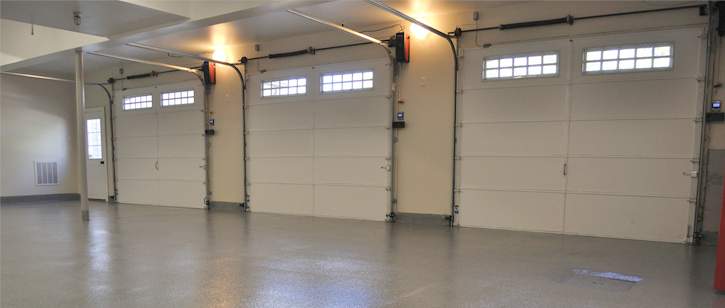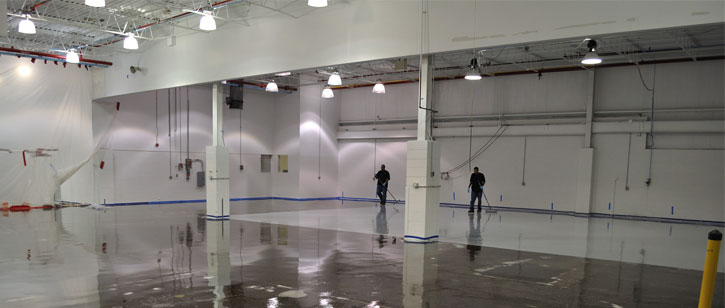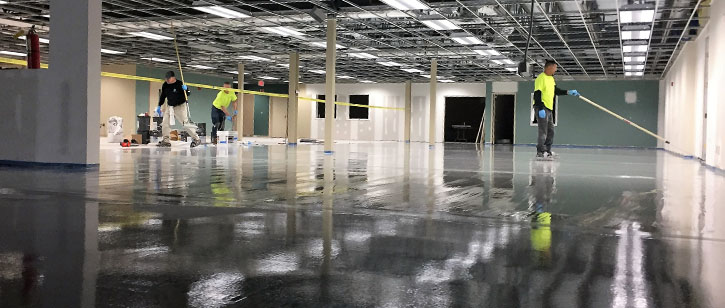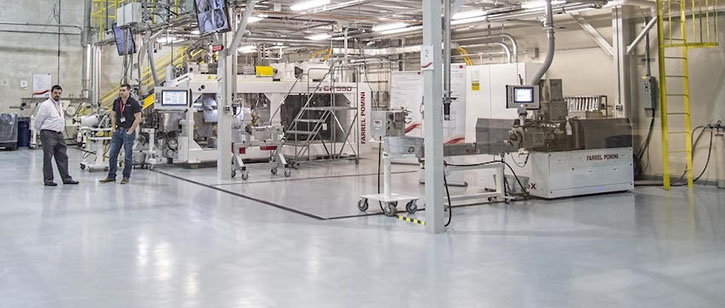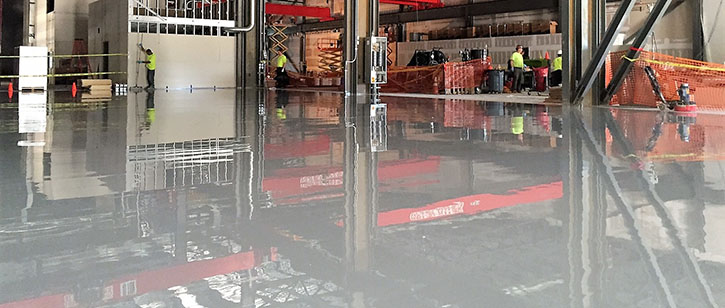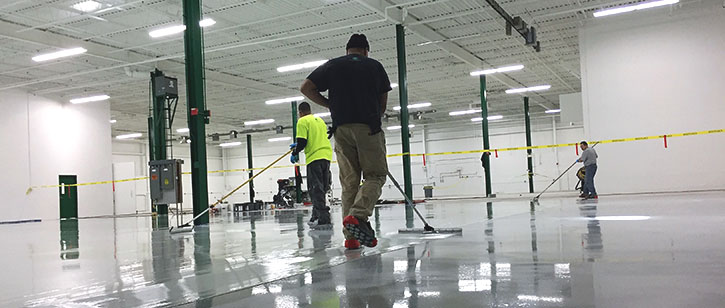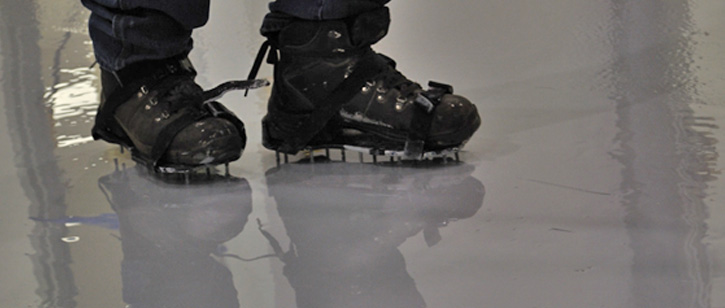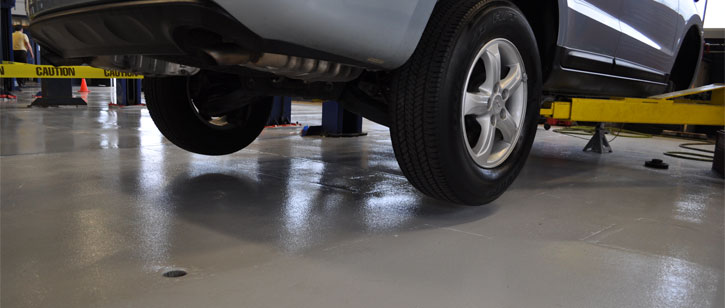 Epoxy Flooring Services
Heavy Duty Floors have dedicated teams of epoxy flooring contractors with decades of combined experience. We use epoxy floors as a general term to group a wide variety of epoxy floor coatings, liquids and trowel down flooring systems that we install. The technical terms they go by are poly aspartic, methyl methacrylate MMA, vinyl ester, urethanes, acrylic and novolac epoxy to name a few. We have more than 25 years of experience installing high-quality and heavy-duty epoxy floor systems in CT, NY, MA & beyond. Each type and variation of epoxy flooring have different properties such as cure times, smell, wear properties, ease of installation and chemical resistance.
In general, all epoxy floor systems have the features of being seamless and resistant to staining. Heavy duty epoxy flooring has a wide range of applications and we have the experience, equipment and knowledge to provide high-quality and durable flooring for a variety of wet and oily environments. If you are looking for a food prep flooring contractor, restroom flooring contractor or clean room flooring contractor you are in the right place. We have dedicated teams of heavy duty epoxy flooring contractors who are highly trained and have decades of combined experience. If you need professional epoxy flooring services in New England contact us today to schedule a free quote.
Why Choose Us For Your Polished Concrete Flooring Project?
25+ years of experience
Commercial/Industrial expertise
We do no subcontract work
Experience with healthcare, garage, kitchen & chemical processing flooring
We are trained and equipped to work in hazardous environments
Heavy Duty Floors Service Area:
Heavy Duty Floors is dedicated to providing high-quality epoxy flooring services. We are based in New Britain, CT and are focused on serving the central Connecticut community including: New Britain, Berlin, Newington, Manchester, Middletown, New Haven, Groton, Windsor, Bloomfield, & Hartford. Beyond Connecticut we also serve MA, NY, RI, NH & VT. If you need professional concrete floor polishing services in New England contact us today to schedule a free quote.
Contact Us: Learn more about our industrial and commercial epoxy flooring services in Connecticut, Massachusetts, New York and beyond.
---
Advantages of Heavy Duty Epoxy Flooring:
Epoxy Floor System Designs
We offer a wide choice of colors and design options with heavy duty epoxy flooring. From the clean look of a light grey floor to decorative chip floors to metallic flake floors, today the epoxy floor coating choices are almost as extensive as automotive paint in terms of colors and effects.
Seamless Epoxy Flooring Integrations
One of the biggest advantages of epoxy floor coating is the ability to incorporate your cove base into the floor seamlessly making cleaning an ease in addition to protecting your sheet-rock from water intrusion and physical damage.
Epoxy Flooring Repair
A high build epoxy floor coating can fill small voids and spills and help to level a floor without having to jackhammer the floor out and replace it.